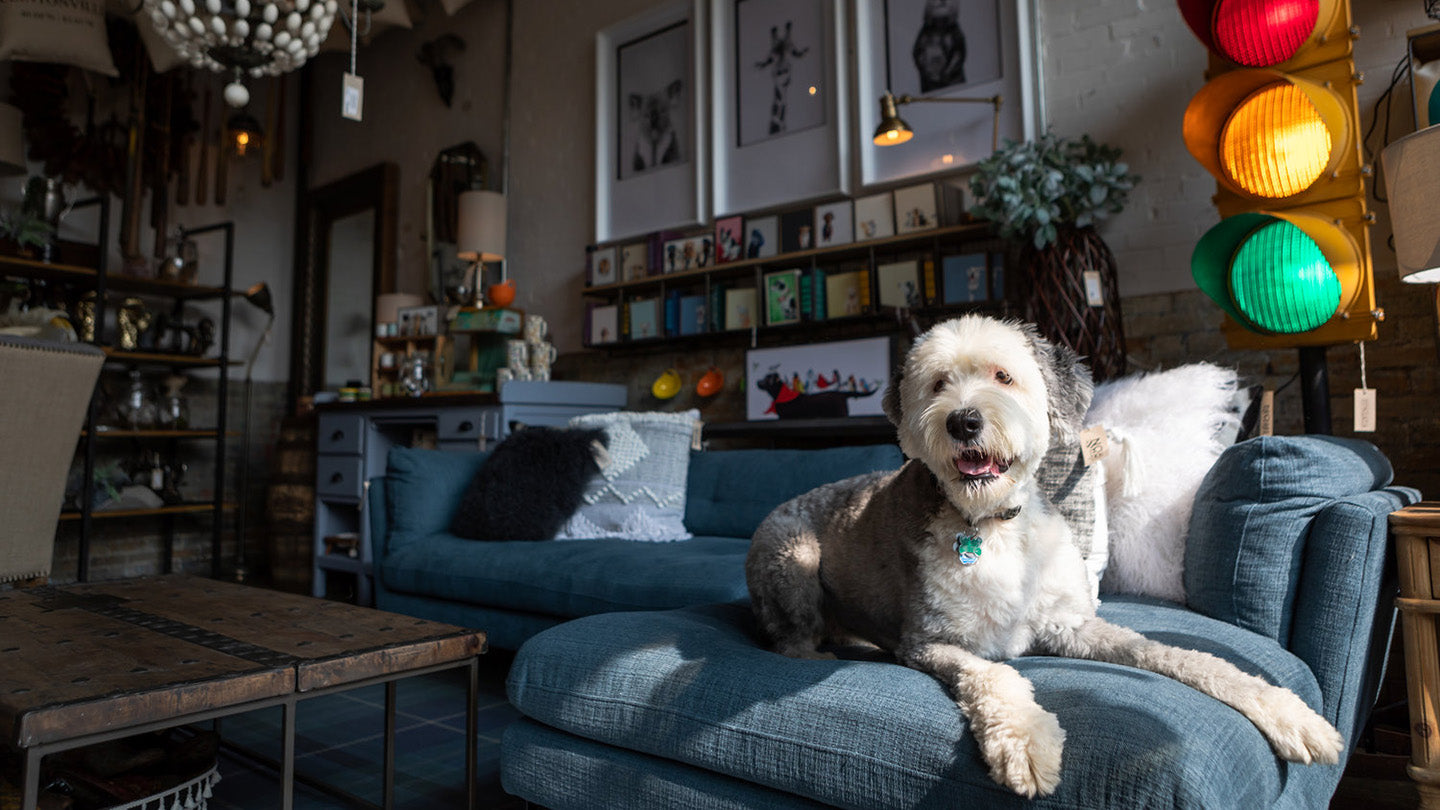 Steps To Remember When Decorating With Throw Pillows
Special thanks to Edith and Edith's puppy parents for allowing her to briefly model at our Clintonville Store.
Let's face it, we all can't be Chip & Joanna Gaines (although Daniel does own some chickens and a beautiful farm). The struggle is REAL when it comes to decorating your space and finding ways to incorporate color, design, and texture. We've heard from several people on social media — you know who you are — that they wanted more of a "behind the scenes" perspective on some tips and tricks on how we style our spaces here at elm & IRON. This past week, we sat down with Alethea, our AMAZING stylist, to discuss how to decorate your furnishings with throw pillows.
Click to view Alethea's tips and tricks for styling your furnishings with throw pillows.
We decided to break down the tips into three categories: neutrals, monochromatic, and black & white.
Neutrals:
Oh, nudes, nutes (our made up word), neutrals — it's easy to sway towards the word, boring. However, that is clearly not the case when done well! When you are working with neutrals, try to "focus on the mix of patterns and textures," stated Alethea during our styling tip session. "Think of including tonal neutrals, such as ivory & champagne," as pictured below. Bringing in neutral pillows can add a sense of balance to a bold, colorful sofa.
Monochromatic:
A monochromatic color palette is based on variations of one particular color. A common misconception is that monochromatic refers to neutrals or shades of grey, but you can use any color! We were working with similar hues of blue in this setting. Blue on blue works well here because, once again, we are mixing textures with a variety of pillow sizes — here we mixed 22", 20", & 16-18" pillows. Tone on tone is a trend we are loving right now!
Black & White:
So, how do you decorate with black & white pillows? Start by mixing sizes and patterns. Keeping a balance of the same pillow on each side — notice the cowhide patch pillow on both sides of the sofa — and add a variety of mix, so it looks more natural.
Below are a few more options when decorating your furnishings with pillows.
Question: How do you decorate with unique throw pillows?
Interested in seeing other businesses we've worked with in the past? Then check out a recent blog post where we chatted with Nicole Harrison, an amazing realtor located in Uptown Westerville.
Local delivery or pick up options available. Please email us at, elmandiron@gmail.com. 
Location: elm & IRON, Clintonville Location; 3475 N High St Columbus, OH 43214
All photos are taken by Emma Parker Photography.